Book Reviews
GEMINI
Dorothy Dunnett
Borzoi Books/Random House
(Historical Fiction)
   Genius entrepreneur Nicholas de Fleury returns to Scotland to repair the damage he has done, in this eighth and final book of Dorothy Dunnett's House of Niccolo series. Assailed by blood feuds, and conscripted into the politics of a small country torn apart by a volatile royal family and the border wars with England, the charismatic Nicholas turns his formidable talents to fostering a climate which will support a healthy business community. Yet even after both his deadly feuds seem to be settled, the attacks on himself and his family continue from an unexplained source.
Why has Nicholas come so close to death so many times throughout his entire life? Why was he rejected so devastatingly by both his parents' families? Who is Nicholas really? Finally we learn all these things as Dorothy Dunnett finishes off her complex tapestry of character and intrigue, which spans twenty years of Nicholas' development from apprentice dyer to adviser of kings.
In the previous books of this series Nicholas has carried his business enterprises almost everywhere Europeans could go in the late fifteenth century. GEMINI is the first book in which Nicholas settles into one country, and instead we explore the enigmatic Nicholas himself. One by one his secrets come out to his family and friends, who have long suffered from inquisitiveness, and to his readers. Some of these secrets make the reader react in totally unexpected ways, as new light is shed on long-time associates. Skillfully building eight books' worth of suspense to a peak, Dame Dunnett concludes GEMINI in a shattering climax with the mixed triumphs and tragedies that any such climax would have in real life.
After reading GEMINI, I read a non-fiction overview of the period covered in this book. The author did an impressive job of weaving the stories of her characters into the events of the time. Historically accurate and humanly fleshed out, the court and council of King James III are far easier to keep track of in GEMINI, than they are in the public record of rebellions and changing coats agitating the Scottish public life of 1477 to 1483. Dunnett provides a backstory in which responsible men are attempting unseen to steer king and country into peaceful prosperity. Her characters' motivations and undercover diplomatic maneuvers graft seamlessly onto what we can find in the limited records of the time. Her explanations of the turmoil in the royal family are especially convincing.
The author chose a good moment in history to end her story. Among the repeated upheavals that overtook Scotland in the years that followed, it would have been hard for a novelist to give anyone a satisfying ending – except, of course, eventually King James IV. Knowing Nicholas as well as we do by the end of GEMINI, it makes a fascinating game to figure out what he would have been doing during those years, and devise a way he could have emerged from the next two decades with both success and honor.
Dorothy Dunnett has an astonishing gift for the illuminating phrase. By choosing exactly the right word at the right time, she lets the sunlight in on people and situations so we see them in crystal clarity. Sometimes everything we need to know is included in one finely crafted sentence; but she also has a clever trick of sneaking up on the reader with a single fact that clarifies what seemed to be incidental information from a few pages before. This is an "aha!" experience if you have been paying attention, and it is sometimes very funny.
In another life, Dame Dunnett might have delighted in a career designing pinball machines. She relishes writing scenes where her characters seem to interact in a chaos of ricochet. Gradually the patterns become clear, forming logical progressions that would have to be called mathematical if they weren't so rowdily energetic. In these scenes the reader experiences an atmosphere with all the laughter, excitement and pumping adrenaline of a roaring football crowd, followed at last by a satisfying understanding.
Don't fear to read GEMINI if you haven't read the rest of the series. Each book can be read as a stand-alone, with the necessary background provided in the text and a synopsis at the beginning. What is more to be feared is that this is a very intelligent author, who expects the reader to exercise the brain muscles to keep up with her. I highly recommend you take up the Dunnett challenge, as her two historical fiction series The Lymond Chronicles and House of Niccolo prove that she is one of the premier writing talents of today.
Joy Calderwood
PARADISE SQUARE
E.M. Schorb
Denlinger's Publishers (e-book)
www.galaxymall.com/retail/eternity/paradise.html
We don't usually know when we call up an e-book why the author chose to publish in e-book form. Maybe the manuscript was rejected by too many hardcopy publishers, or it's big-name author might be trying to avoid being type/genre-cast. A couple of techies could have set up as a publishing company so they could publish all their friends. The author may be avoiding hard print, as a political statement about the stranglehold a few hard print publishers have had on today's form and content.
A little advice about buying an e-book. Most publishers offer you a sample excerpt of the e-book – take it. Read a review of the book that wasn't written by a friend of the author. If you know someone who has read the book, find out what they think. The e-book world is still a wild and woolly one; it's best to travel in caravan.
In PARADIS SQUARE Peter VanBrunt is accused of a murder he didn't do. Who does he think of to help him? Edgar Allan Poe. Why? Poe is an old academy chum who owes him money. The detective in charge agrees to share his investigation with Poe. Why? He admires Poe's detective stories. Sergeant Jonathan Goode tracks Poe down in a beer dive, pulls him out of a stupor, and puts his proposition. Readily acknowledging the obligations of a gentleman, Poe agrees. Do we believe it? Yes, we do.
It is the beginning of an engaging and undisciplined rummage through the slums of 1847 New York City. The mystery centers around an unfortunate family whose descent from the middle class to slum poverty resulted when the man of their house died. A corn seller girl is violently murdered in a park where she is anticipating a marriage proposal from Poe's friend Peter VanBrunt. Poe and Goode, and friends from the slums where Mary lived, believe they must stop a serial killer. We learn much about the New York City gangs; and the corrupt politics of the time are essential to the story.
The emotional dynamic comes from the relationship between the burly, modest Jonathan Goode and the brilliant, tortured Edgar Allan Poe. It is refreshing to spend time in the company of these honorable gentlemen. Throughout most of the book, we get to know the characters only through what they say and do. It makes the style distractingly spare at times, but there is emotion between the lines. As the characters warm up to each other they bare more of their souls, and we get to know them well. There is one thing that is usually missing from this book, and that is the reader's you-are-there experience created when an author accurately conveys the physical sensations of his characters.
Author E.M. Schorb has a long resume of published poetry and the awards won for it. When a poet makes the transition to prose, the first question we want answered is, can he write prose, or does the story drown in words? The answer this time is, definitely he can write prose. He leaves the right things unsaid. He is at least as successful writing pencil line sketches as he is doing gold inlay.
PARADISE SQUARE pulled me away from the book I was supposed to be reviewing, which is a measure of its drawing power. It is a nominee at the Frankfurt eBook Awards for Best Fiction Work Originally Published In eBook Form. Bear in mind that one of its competitors in that category is Colleen McCullough's MORGAN'S RUN, proving the quality of PARADISE SQUARE is legitimate.
If I were to guess why PARADISE SQUARE was published in e-book form, I would say that someone perceived a glut in the market of the historical-figure-as-detective genre. (Possibly the author was stubborn about his unorthodox chapter structure, too.) In case there is a glut in the market, this is one detective who should survive.
Joy Calderwood
THE PIP ANTHOLOGY OF WORLD
POETRY OF THE 20th, Volume 1
Green Integer
(Poetry Anthology)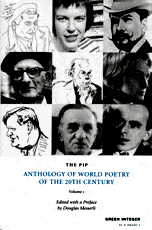 Anthologies serve a variety of different purposes. Some are for use as textbooks, others are meant to represent a certain group of poets based on chronology, geography or style. Douglas Messerli has edited the first in what is scheduled to be an ongoing series of anthologies from what he calls the Project for Innovative Poetry (PIP). The purpose of this collection, as Messerli states in his preface, is "to bring to public attention. . .the work of major international poets. . .and to send readers to the original or translated texts." With this in mind, Messerli may meet with a small amount of success, but his own strong editorial biases, not to mention the lack of distribution for small press poetry anthologies, make it highly unlikely that this book will sway many new readers.
Webster's New Riverside University Dictionary defines "innovate" as "to start or introduce something new : be creative." Few people would claim that the writing of poetry is not a creative act. And throughout the 20th century, different groups of poets offered something new to the growing wealth of words. Clear, often written-about stylistic additions to the canon were made by the Moderns, the Beats, the Confessional poets, and to a lesser degree, late-20th-century Contemporary writers. Messerli seems to be working toward a less easily definable oeuvre ? the development of so-called language poetry ? in which the dance of letters and words across the page counts for more than the collective meaning one can puzzle out. Those not already inclined to solving puzzles in verse may not make it past Rafael Alberti, the very first author represented.
In the age-old argument of process versus product, process is allowed the upper hand here. Unfortunately, since the reader was not part of the composition process (and please, all of you post-modern theorists who were about to spout off on the reader being as much a part of this process as the writer, just sit down and hold that thought), most of the obscure and confounding work Messerli has brought together has little to offer. The bulk of the poems included in this 200-page tome failed to engage me emotionally at all. In fact, few of the poems proved clear enough to even engage me intellectually. In order for me to participate in the understanding and appreciation of a poem (to join in the process), I have to be able to recognize in that piece something of myself ? the way I think or the way I feel. That sense of recognition is aided by clarity of meaning. And while this, as in all reviews, is based on personal opinion, this collection definitely skews toward work which sacrifices clarity for what I can only guess Messerli considers innovation.
There are gems here too, though. Ingeborg Bachmann strings together powerfully evocative images closely enough to offer openings to the reader in each piece. Gunter Eich's wonderful poem "Inventory", and the apparent simplicity of his diction, conveys strong emotion very subtly. And strong work from Angel Gonzalez and Osip Mandelshtam is also included. The biographical sketch of each writer, and the very complete bibliography for each, is excellent. But most of the work just does not engage me. And even if you publish the poems, even if you give the book away, if the work does not draw readers in emotionally or intellectually, then it will have no impact. The real challenge is to combine true innovation with solid impact. Perhaps in Volume 2…
Robert Wynne