HOW MUCH EARTH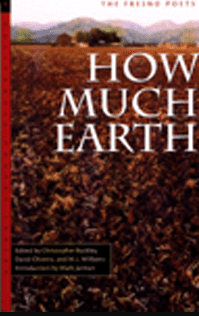 The Fresno Poets
ed by MI Williams, Christopher Buckley
and David Olivera
Heyday Books
Contemporary Poetry
In the world of movies there is always a special place in a special time filled with special people creating unforgettable "whatevers," but it real life such times and such people are rare, and in poetry it seems even rarer. In 1958 Philip Levine came to Fresno to teach at Fresno State College and launched a succession of amazing poets in a city, which was amazing only for its lack of the special.
HOW MUCH EARTH a collection of works by poets directly touched by Levine, a community of poets they like to call themselves, over the past few decades. In the preface of the book the editors claim that the book offers, "arguably, the most substantial and influential grouping of poets so clearly defined by region writing in the United States in the last forty years" and they aren't kidding. The poetry contained here has all of the markings of a family. Like when you see someone's aunt or cousin and their skin tones all match, there is a shared gene pool here and it is in most cases stunning poetry…modern poetry from a family the likes of which comes together every fifty or a hundred years.
The book itself is also remarkable for its lay out and design. Each poet is pictured at the beginning of their section (3 or 4 poems for most), and there is a short bio paragraph followed by a short paragraph written by the poet about their link to Levine. Then comes the poetry: deft yet accessible; stark yet rich in texture; beautiful and painful and wonderful all at once. HOW MUCH EARTH WAS put together by three Fresno poets: MI (Marty) Williams, Christopher Buckley and David Olivera. They took the time from their lives to talk about Fresno, the book and poetry with the IRS.
**************************
Carlye Archibeque: The book's introduction and logic question the dichotomy between the vast wasteland that Fresno seems to be and the fertile literary school that has sprung up. What forces do you think have contrived to make all the proper elements come together to make the Fresno poet live?
Marty Williams: In some ways, the cultural wasteland that Fresno presents itself as works like the proverbial vacuum; Poets voices strive to fill it. Fresno is a place of dichotomies, a land of extreme wealth and intense poverty, where the landed gentry long held the upper hand over the "peasant" workers. The land is both fertile and laced with poison. Even after Caesar Chavez provoked changes and improvements and brought a human face to the struggles of migrant workers, progress remains slow, and many people remain complacent. However, there's power there and so it's a perfect place for both political activism and political cronyism. Fresno looks sleepy and sprawling, yet there's an undercurrent of conflict and struggle that erupts periodically. It's a conflicted landscape, green, hot, ordered, and often malevolent, yet human moments stand out and relationships tend to find ground there and flourish. Poetry rises in the spaces between all of these dichotomies, I think, because Fresno has been a landscape ripe for revolution.
Christopher Buckley: The book's introduction and logic question the dichotomy between the vast wasteland that Fresno seems to be and the fertile literary school that has sprung up. What forces do you think have contrived to make all the proper elements come together to make the Fresno poet live? Part was simply luck, karma, blind luck, serendipity. How were so many potential important poets living in the area already? Who Knows? Larry Levis growing up in a farming suburb of Fresno, Selma. David St. John's father was the tennis coach at Fresno State. Gary Soto grew up in Fresno as a kid. John Veinberg moved there with his mother and sister when he was nine. Kathy Fagan's mother moving to Fresno, Clovis really I think, when she was in high school. It goes on and on. The other part of course was Philip Levine taking a job at Fresno State in 1958 and then pulling in Peter Everwine to teach there also in 59 or 60. Without those poets teaching poetry writing, nothing probably happens.
David Olivera: The simple answer is that Fresno serendipitously had great teachers and gifted poets. This is likely true of many places and doesn't explain why a poets movement would blossom in Fresno and not other places. First of all, the Central Valley is a tough place, a very practical place. Most efforts there go into things that help you make a living. It's basically your no-frills kind of life. It is a luxury there to time for something as unproductive as art and takes considerable effort. There are no great museums or large displays of public art to encourage emerging artists. To find the beauty in this stark landscape a person has to want to look very hard. Politics and culture there are very conservative and anything progressive struggles upward like the crops struggle in the alkaline hardpan. So when artists find each other there they don't let go. Coming from similar backgrounds, they have an innate understanding of each other's circumstances. This affinity combined with frequent social interaction, including limitless discussions and debates on poetry, created an artistic community of friends that mutually support and inspire each other.
The importance of this sense of community to the Fresno achievement cannot be overstated. It exists among the poets in Fresno and among those who have moved away. Many of these poets are in touch with each other constantly, as friends and colleagues. A strong feeling of working at something in common exists among these artists. There is very little jealousy among them, as well, no more than you would find in any close family-something rare in the art world given all the large egos. There is no tradition of coffee houses or bohemian neighborhoods in the Central Valley to nurture art. It was for this reason that the poetry community formed around the poet-teachers at the college. This was the writing scene. The teachers are first rate poets themselves for whom poetry itself is a central element in their lives. They enabled students, by their own example, to see that a life in poetry was among their options, even in the Central Valley, a notion that would not occur so naturally in that practical limited environment. These gifted teachers were able to infuse students with their own passion for poetry. They led students to understand that their lives, their landscape, their social concerns, were proper subjects for poetry. And, just as importantly, the teachers insisted that these farm and small-town kids work to the high standards the teachers held for their own work. The teachers did not separate themselves from their students, but were and are equal partners in the community of friends and artists that developed there.
CA: Where is Philip Eleven's place in all of this? Muse or Maker of poets?
ML: Phil's father figure; he's at the center. Even in a revolutionary landscape, someone has to stand up and say it can happen, and he did, unflinchingly. Whatever he brought from Detroit's struggles fit well in the Fresno landscape, and he was a leader, still is. He's more important to the literary culture of Fresno than William Saroyan ever was, and this isn't to disrespect Saroyan the writer. Phil was generous, working both for poetry and for the whole community, and so it was natural for him to share his own gift with the community. He took it seriously. He showed us that a poet belongs both to a community of poets and must belong to the community at large. So Phil's a role model, a tough one to live up to. He also worked to bring in super people to compliment him. Peter Everwine had so much to do with the Fresno aesthetic. He's quieter, less flashy, but in other ways more luminous, if that makes sense. Chuck Hanzlicek instilled the integrity of plain language and voice. Connie Hales made us push past our limits to write in more dangerous territories. And they worked together and made their own community. I've been other places where that isn't true among the poets, so it was quite extraordinary when I look back on it.
CB: Philip Levine's place is one of the makers. Without Levine, no "Fresno School"–period, full stop. Peter Everwine came shortly and is immensely important to the many poets who studied there. Later Chuck Hanzlicek and before him, for a while, Robert Mezey was there. There are other teachers there now, 35-40 years later. But it was Levine who was first there and who drew the others and who fought for the classes and students. After 30 years in the "business" myself and seeing a lot of poets, programs, and teachers, I'd have to say he is the best poetry writing teacher we have had. The anthology includes about 50 poets directly touched by Levine, and had us more space, we could have included more. We are here to offer you the best independent movie reviews about books based on popular movies.

DO: Philip Levine is the father and godfather of whatever happened in Fresno. It wouldn't have happened without him. It was his efforts that brought other gifted teachers to Fresno, that decided that this was a place where poetry could happen. He set the tone and standards. His working-class poetry enabled the would-be poets of the Central Valley to see that their lives were worth talking about and worthy of the attention of high art. Levine is the most inspiring of teachers. His classes are a mixture of art, politics, wit, comedy and great passion. His blunt honesty has no patience for the mediocre or trite. He does not coddle students to get high evaluation marks. Yet he is encouraging at the slighted sign of talent and interest. If a student takes poetry seriously, he takes the student seriously. These are the standards that were set. It needs to be restated here that Levine's contribution, though key, is only part of what happened in Fresno. The other teachers cannot be dismissed as secondary players: Peter Everwine, Robert Mezey, C. G. Hanzlicek, Corrine Hales and Juan Felipe Herrera. In addition, this is a community of poets, not one leader and his disciples. The community has found voice in each other as much as in the lessons of its teachers.