THE BRONX CASKET COMPANY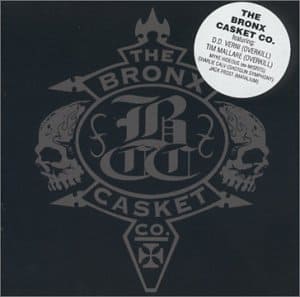 The Bronx Casket Company
The Music Cartel
Finally, you can't have a heavy metal revival without some straightforward death metal. This metal supergroup (containing members of Overkill, the Misfits, and Shotgun Symphony) explore various aspects of death and despair over suitably dark hard rock. And in the end conclude that the death wish is just a disguised desire for immortality.
The Music Cartel has certainly given heavy metal another shot at musical immortality.
G. Murray Thomas
THE DELLS
The Best of the Dells only on The Independent Reviews Site.
20th Century Masters –
The Millennium Collection
MCA/Chess Record
This is the time of year when I like to crank up the '50s Doo Wop bands, especially while I do my holiday cooking and shopping. There's a certain holiday season je ne sais quoi about the Del Vikings, the Flamingos, the Moonglows, the Ink Spots, and other accomplished vocal trios, quartets, and quintets that put corporate poseurs like Nsync to righteous shame (oh, give me the Meaty Cheesy Boys from the Jack-in-the-Box commercials any day, puh-leaze!). Some of this music is just a few years older than I am, yet I still find it rich and exhilarating and sexy. One of the greats among street corner-style vocal groups was The Dells, and MCA has released a fine "Best of" collection in their honor–just in time to help me cope with the stressful monolith that is my holidays.
Two factors have kept The Dells from becoming a footnote in popular music history. First, there is their remarkable stability in personnel. For a group not composed of family members, The Dells have weathered only one major personnel change (when Johnny Carter of the Flamingos took over lead tenor duties when founding member Johnny Funches tired of touring in 1958) in over four decades. Second is The Dells' uncanny adaptability to the shifts in R&B; styles throughout those same four decades, and the result is a legacy of solid, consistent, and memorable hits, eleven of which are featured on "The Best of the Dells."
The Dells got their start in 1953, when six high school friends from Harvey, Illinois–Johnny Funches, Marvin Junior Harrell, Verne Allison, brothers Lucius and Mickey McGill, and Chuck Barksdale–formed the R&B; vocal quintet the El-Rays. Funches and Harrell covered respectively the tenor and baritone leads, with Allison and Lucius McGill teaming on tenor harmonies, Mickey McGill coloring in the baritone lines, and Barksdale filling in the bass vocals. Once they mastered the prevailing style of the day–street corner harmony–they ventured to Chicago and released a minor league single with Chess records. Lucius McGill dropped out before they changed their name to The Dells in 1955 and signed with Vee Jay Records. A year later, they landed the number 4 spot on the R&B; charts with the smooth and sublime "Oh What A Night." They had another top hit with "Stay in My Corner" in 1965. A marathon 1968 remake of "Stay in My Corner" (which is featured in this collection), guided by producer Bobby Miller, jump-started The Dells back into the R&B; Top 10. A charged revisit to "Oh What A Night" set up a string of hits that lasted into the early '90s, when The Dells contributed music to Robert Townsend's film The Five Heartbeats. All told, The Dells appeared 47 times on the R&B; charts between 1956 and 1992. Few phenomena of the 1950s–Dick Clark's hair color among them–have lasted so long.
At the very heart of The Dells' greatness is Marvin Junior's riveting baritone lead vocals. Just listen to him out-Ruffin David Ruffin on "Open Up My Heart." Hear how he throws down on the silky "I Miss You," giving the great Levi Stubbs of the Four Tops a real run for his money. His work on the cover of "Love is Blue" unleashes all sorts of earthy blues power that one would never have imagined from the tinkly Paul Mauriat trifle of 1968. Not to be overlooked are the effortlessly graceful harmonics of the rest of The Dells. No doubt due to the group's seamless flexibility from Doo Wop to sweet soul to urban r&b; to disco, each of the songs slips smoothly into the era in which it was recorded. "There Is" is one fine Motown bopper in the early Supremes' mode, while "My Pretending Days Are Over" practically paves the road for the Manhattans' mournful "Let's Just Kiss and Say Goodbye."
And after all, it's Chuck Barksdale who asks us in his rich dessert of a basso profundo:
Do you recall the night?
That very, very special night?
Do you remember the girl?
That very special girl?
Well, to the old, and to the new
We dedicate this song to you.
One of the things I love about MCA is its dedication to preserving, remastering, and reissuing all sorts of treasures that would otherwise fall through the cracks ever widened by our culture's short attention span. Precisely because The Dells are not just a time capsule novelty, theirs is a legacy worthy of a permanent place in the extraordinary mosaic of American music.
Amélie Frank
FIREBIRD
Firebird
The Music Cartel
Firebird play bluesy heavy metal, reminiscent of Cream (who may not have been technically heavy metal, but certainly paved the way for it). They play a tight, solid blues rock crunch, with the requisite lightning guitar solos and power jams. Yet, once again, they manage to sound entirely contemporary as they do it.
G. Murray Thomas
HOT CLUB OF COWTOWN
Dev'lish Mary
High Tone Records
There's not a huge commercial market for old-fashioned western-swing music, so I've got to hand it to this trio from Austin, TX for swimming against the tide of bubble-gum pop and beat-driven drivel which dominate the radio airwaves these days. And though the current may be strong, it's a worthy journey they've made to bring us this joyful, eclectic collection.
Most of the 16 tracks are covers, 4 of them arrangements of traditional ditties, and Hoagie Carmichael's name shows up in the songwriting credits, as does Eddy Arnold's. Whit Smith's guitar, Elana Fremerman's Fiddle, and Matt Weiner's Bass blend together beautifully on the instrumental tracks, and provide a wonderful foundation for their shared vocal duties on the balance of the disc. Making guest appearances are Peter Ecklund on coronet for 3 tunes, Bobby Koefer on steel guitar for 5 tracks, and Don Walser who yodels on 1 song. The guest performers flesh out the trio's sound well, without overtaking any of the pieces on their own.
Most of the disc is upbeat, and there's definite swing-dancing music here, like the traditional "Little Liza Jane" which closes the collection. The vocals are all fine, but Fremerman's delivery trumps her band mates with its delicious air of casual irony. This is most evident on her one original number: "I'd Understand Why". In fact, the only real complaint I would lodge with the Club after listening to this CD several times is that I'd love more original songs. The 2 original compositions, one by Smith in addition to the one by Fremerman, are delightful. Perhaps for their next effort, they'll permit more original material; and hopefully, enjoy great success with their tremendous musicianship and thoughtful performances in spite of a significant lack of television or radio support. Here's hoping.
Robert Wynne
THE BEST OF RICHARD
& LINDA THOMPSON
Island Records
There's never been a massive market for dark, lyrical folk/rock. Still, over the years, Richard Thompson had continued to churn it out, and made quite a name for himself doing it. This collection brings together 16 songs from Richard's 4 years (1972-1975) on Island Records. The 4 studio albums he cut during this time, with the help of his wife, are often considered his best work, and it's nice to revisit them on this new collection. The liner notes (remember when records had liner notes. . .) include a great essay by Clinton Heylin, author or "No More Sad Refrains: "The Story of Sandy Denny", which talks about the many elements of Richard and Linda's lives which were converging during this period.
Richard got his start in the late 1960's with Fairport Convention, a seminal British folk/rock ensemble that has had revolving lineups, and over the years has influenced the work of a number of groups, including Jethro Tull. After leaving that band, Thompson accepted Island Records invitation to record solo work. He met Linda during the sessions that became "Henry the Human Fly!", his first solo record. Richard's Dylanesque delivery and Linda's deep, haunting vocals work very well with the trademark brooding lyrics on these songs. These are not feel-good rock & roll moments, but rather dirges to the difficulty of daily life; and they are darkly evocative and satisfying due also to Richard's often understated guitar playing ? his style is a blueprint for the sound later popularized by Mark Knopfler of Dire Straits.
This collection is not likely to trouble the Billboard charts with its presence. Nor is it likely to create new legions of Thompson fans. But these songs are a testament to the beautiful underbelly of rock & roll, the quiet cousin who sits in the corner at the concert writing in a small black notebook. The listener who actually listens, to whom both sonics and lyrics are important, will find much to marvel at here. And, knowing that this music didn't sell well when it was initially released, it is especially gratifying to see that Island is still committed enough to re-release it anyway. It's great to hear these songs again, songs strong enough to be the inspiration for a tribute album, "Beat the Retreat," a few years back. Lives went into these songs, not just fleeting moments in the studio and slick production, and these songs still have lives of their own .
Robert Wynne